The European Union for Medicine in Assurance and Social Security (EUMASS), Union Française de Médecine d'Assurance et de Sécurité Sociales (UFMASS, FR) and Association scientifique de médecine d'assurance (ASMA, BE) are pleased to invite you to the 24th EUMASS 2023 Congress, which will take place in Strasbourg, France, from Thursday 28th to Saturday 30rd September 2023.
38 years after the 6th EUMASS Congress, we are returning to the prestigious hemicycle of the European Parliament in Strasbourg.
There, imbued with thoughts of cooperation and exchange of ideas, we will discuss the evolutions within insurance medicine from different international perspectives. The Covid-19 pandemic, the economic consequences of the war in Ukraine, the energy crisis and the digital issues show the importance of good social security, but also question its implementation. The theme of the EUMASS Congress - INSURANCE MEDICINE 2.0 IN A CHANGING WORLD - aims to provide answers to these questions with scientifically rigorous presentations.
The EUMASS congress is one of the big international learning events in insurance medicine in Europe. Participants can learn and develop their thinking by hearing about current trends, by presenting their own work to receive professional feed-back and by discussing numerous themes with presenters and other participants.
We hope to receive many abstracts for parallel sessions about research, education and practise in the different fields of insurance medicine. Submission of abstracts begins on 1 October 2022.
Please find more information at : www.eumass2023.eu
On behalf of the Scientific and Organising Committees, we look forward to welcoming you in Strasbourg in September 2023!
Dr. Corina Oancea, chair of the Scientific committee
Dr. Nadine Agosti and Dr. Jean-Pierre Bon Schenkelaars, presidents of the Organising Committee
---
Call for abstracts
You are kindly invited to submit an abstract for the 22nd EUMASS congress through the congress website. Guidelines and the abstract submission tool are available on the congress webpages at www.eumass2023.eu. Be sure to submit your abstract before 10th January 2023. This will be a strict deadline!
Accepted abstracts will be allocated to the appropriate scientific session. Notification of acceptance and instructions for oral or poster presentations will be sent by 1st April 2023 via e-mail. Presenting authors who are accepted should register and pay conference registration fees. All abstracts (oral and poster presentations) will be published in the conference programme book.
The 24nd EUMASS congress welcomes the submission of abstracts on the following themes:
Main topics
Sick leave (certification, guidelines, measurement, presenteeism; quality assurance)
Rehabilitation and return-to-work (methods, patient's perspective; quality assurance, employer's role)
Work capacity evaluation and management (guidelines, EB-insurance medicine, quality assurance)
Training in insurance medicine (Current curricula; Insurance medicine in undergraduate and postgraduate medicine and in continuous medical education; Defining learning objectives, theoretical knowledge, practical skills and evaluation)
Interaction between health care and social care (monitoring health care and health care providers)
Ethics in insurance medicine
Impact of changing legislation  

Additional topics

Demographic and social changes (aging population, people with disabilities; migration, e.g. environmental, climate, work, economic migration)
Information technology and artificial intelligence in insurance medicine (E-health, big data, automation)
Changing profile of the insurance medicine provider (the impact and extent of multidisciplinary approach in work capacity evaluation; task sharing between physician and  other team members to overcome the rising shortage in medical advisors)
Common features of social insurance medicine in different European regions
Social insurance medicine after Covid-19 pandemic (Post-acute Covid syndrome-PACS; Long Covid: consequences for the medical advisor in monitoring & compensation; Collateral damage: Covid-19 impact on other patients due to poor medical care)  
For all topics cross-European comparisons are particularly welcome.
Sneak preview
Prospective lecturers
Dr Ayden Tajahmady MD, CNAM deputy director of the survey service, France,  
Prof. Philippe Coucke MD PHD, University of Liege, Belgium,
Prof. Etienne Minvielle, MD, PhD , Institut de Cancérologie IGR-Paris,
izr. prof. dr. Petra Došenović Bonča, University of Ljubljana, School of Economics and Business, Slovenia,
Prof.Dr. med. Jürgen Windeler, Director of the Institute for Quality and Efficiency in Health Care  in Cologne, Germany,
Prof. Frederieke Schaafsma, Occupational medicine, Amsterdam UMC, The Netherlands,
Lene Aasdahl MD. PhD. Researcher NO Department of Public Health and Nursing, University of Technology and Science (NTNU), Norway,
Kaat Goorts PhD KU Leuven, Belgium,
Ian Hoving, Assistant Professor Amsterdam UMC, The netherlands,
Prof. Alex Collie  PhD, Head of Insurance Work and Health Group at Monash University, Austria,
Professor Mika Kivimäki, University College London (UCL) and University of Helsinki, Finland
---
General Information
Congress language
The official language for the 24nd EUMASS congress will be English. Translation to French will be available and some dedicated parallel sessions will be held in French.
Registration
Registration will start in March 2023 on our website. A start of registration notice including information about the participation fee, will be distributed in the last week of February. Discounts will be available for early birds. The cost of registration and ancillary services  will be kept as fair as possible  in the lack of private grants. This is the toll of our independence.
Website
Read more on our website www.eumass2023.eu which will be updated regularly.
Contact
For any questions you may have concerning the congress, please contact the Organising Committee via the contact form on our conference site.
About Strasbourg
Strasbourg, the seat of the European Parliament and numerous European institutions (e.g. Council of Europe, European Court of Rights), is a regional hub with many visitor attractions including the cathedral, the Petite France historic centre and the former German imperial district of Neustadt, both UNESCO World Heritage sites.
Strasbourg is multicultural, enriched by its influences, forming a perfect bridge between past and present. And also young, creative and trendy as a university city with 60.000 students. This is reflected in a liveable city, where public transport and especially the bicycle have their place.
How to get there
By train
Strasbourg, the centre of Alsace's TGV (high-speed train) network!
Paris-Strasbourg in 1.46 hrs, Brussels-Strasbourg in 3.48 hrs, Frankfurt – Strasbourg 1.49 hrs.
By car    
To getting around in Strasbourg you will do this in the first place by bicycle and tram or on foot.
There are several Park en Ride places at affordable prices.
By tram from Kehl, Germany
The city of Strasbourg lies across Kehl over the Rhine river and the two share some municipal services. Kehl station is located near the Europabrücke (Europe Bridge), which can be crossed on foot to enter Strasbourg. Bus line 21 used to connect Kehl with the nearest tram stations in Strasbourg. A tram link to Strasbourg has since been completed, as part of the extension of Strasbourg tramway line D.
By plane
Different European cities have direct flights to Strasbourg.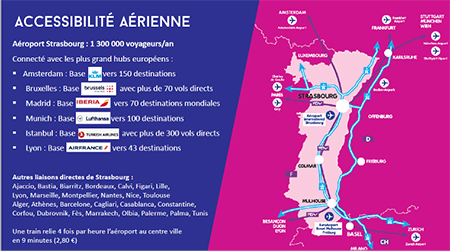 Also Frankfurt – Strasbourg by Lufthansa Express Bus 6/day 2.30 hrs.
About the congress venues and Strasbourg
European Parliament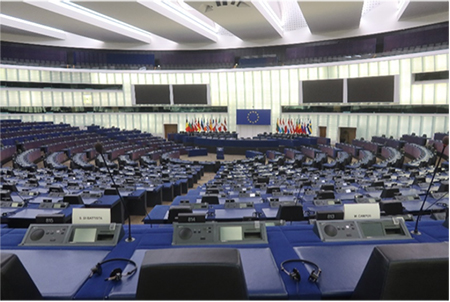 The plenary sessions and the parallel sessions of Thursday and Friday will take place in the prestigious hemicycle of the European Parliament and in various committee rooms.
                            
UNISTRA Université de Strasbourg
The plenary session of Saturday morning will be held in the great auditorium of the Faculty of Medicine of UNISTRA, 2 Rue Kirschleger, 67000 Strasbourg,
Pavillon Joséphine
The welcome reception on Thursday will be held in the Pavillon Josephine, located a stone's throw from the European Institutions, in the heart of the Parc de l'Orangerie, a favourite place for Strasburgers to stroll with its many fountains, statues and plane trees decorating the park's paths. There is also a zoo dating from 1895, a mini-farm and a stork reintroduction centre.
Dîner du congrès
The congress dinner on Friday evening is the perfect place to meet your new or old friends and colleagues in a relaxed atmosphere.
We reserved the " Espace étoile" in the congress centre Palais de la Musique et des Congrès, Place de Bordeaux à Strasbourg.